All About Garages!
We are your nationwide trusted source for steel garages and buildings. Our company delivers and installs nationwide. The focus between sizes of 18' wide to 80' wide structures, and lengths ranging from 20' to 500' long.
Our steel products have been featured on The Weather Channel's Weather Proof TV Show, along with other national publications. Feel free to browse through our website, photos and calculators.
Our trained and certified steel specialists are here to answer any questions you have, and are available Monday-Friday; 8:00 am to 6:00pm Eastern Time; at 888-812-2767. Or you may lookup your local phone number.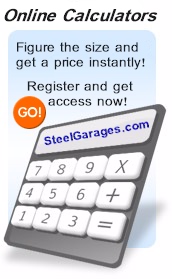 Toll Free 888-812-2767
Choosing a steel supplier and garage builder you can trust.
We have been in the steel industry for over 10 years, delivering and installing structures on a nationwide scale for the last 8+ years. Due to the volume of customers, size of buildings and quality workmanship, we are able to offer some of the best prices for steel garages for America.
Our most popular steel structures include:
Steel Garages / Metal Garage Structures

Large Steel Buildings

Commercial Metal Buildings

Garage Sheds - Residential & Business

Storage Sheds with Garage Doors/Walk-in Doors/Windows

Custom Steel Structures

Engineered Steel Buildings
Get a quote online without delay using our online garage estimating software.