SteelGarages.com Company Information
SteelGarages.com is owned and operated by it's parent company, Barns.com Incorporated. By offering customers the best customer service and quality built structures, we have grown by leaps and bounds. Our family of retail stores and companies make up the largest network of outdoor steel suppliers in America. Our sister companies include over 18 manufacturing facilities throughout the United States, a state-of-the-art steel mill factory located at our headquarters in North Carolina where we manufacturer most of our own building components, allowing us to cut out the middle man supplier - passing the savings along to you.
Mailing & Correspondence:
Physical Steel Factory & Headquarters Location:
Barns.com, Inc.
c/o SteelGarages.com
Post Office Box 11568
Winston-Salem, North Carolina 27116
Barns.com, Inc.
170 Holly Springs Road
Mount Airy, North Carolina 27030
Map & Directions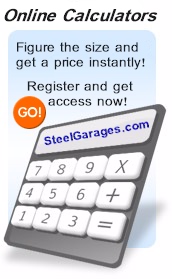 Get a quote online without delay using our online garage estimating software.